Scheduling
We value and respect the importance of your time. You will be pleased to learn that we will generally accommodate most busy schedules. We will make every effort to complete your treatment in as few visits as possible.
In order for us to be efficient with the time scheduled for you, in return we would ask that you also be punctual and always give 24 hours notice if unable to keep an appointment.
Our office hours are:
Monday: 9:00 AM – 7:00 PM
Tuesday: 9:00 AM – 7:00 PM
Wednesday: 9:00 AM – 5:00 PM
Thursday 9:00 AM – 5:00 PM
Friday: Closed
Saturday: Two Saturday's a Month, 8:00 AM – 1:00 PM
Sunday: Closed
First Visits
For your convenience it is recommended that all new patients download and complete the following form. Download Fill them out at home, then bring them with you to your appointment. If you have any questions, please call our office.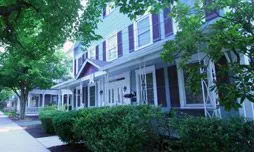 What can I expect from a first visit?
Your initial visit usually conists of a through examination and appropiate x-rays. If you have current x-rays please bring them to this visit. With this information Dr Caruso will explain your treatement options and help you decide on an appropiate course of treatment. If you have a dental emergency you will be seen immediately.